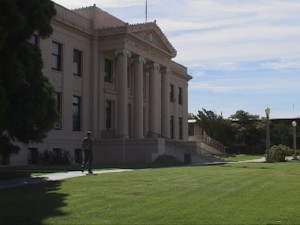 After Inyo County Administrator Kevin Carunchio recently underlined the earlier news that pay raises for all classes of employees will cost the County $1.8 million more next fiscal year and more than double that the following year, some workers began to question what happened. Carunchio pointed to equity adjustments made for many workers who had shouldered the same duties as others but took home less pay.
Citizens and courthouse workers themselves are sensitive to pay hikes – one way or the other. As a result of the equity changes, some employees got 30% raises. Carunchio explained that an internal view of jobs and pay revealed "gross inequities regarding the level of responsibility, independent judgment and skill. We were out of whack enough," he said, "that we had to make significant adjustments." The reason for the inequities, according to Carunchio, was the lack of a merit-based system which has now been put in place. The CAO admitted there were some "big jumps" in pay, but relative to jobs within the County he said it was a matter of fairness.
The $1.8 million of additional personnel costs covers cost of living adjustments and some equity changes for all but elected officials' assistants and Probation Officers, both of which are still in negotiations. County workers had received no cost of living increases in four years.
Carunchio raised what he calls "productivity paradox" in which employees are asked to do more with no additional pay. "We have to pay them for their work as we look at tight budgets and possible lay-offs." The County now pays 80% of health insurance costs rather than the former 100%. That means an additional $400,000.
So how does County government pay for all of this? Carunchio said the general fund is made up of 32% in all forms of taxes and the rest comes from State and Federal governments. The CAO says the County needs to "leverage for the greatest benefit." He said it may mean more contracting for services in some cases and less in others. Carunchio points to a workshop on December 17th on creative budget solutions. He hopes to bring in the City of Bishop and others to look for government savings.
Said Carunchio, "I don't know if we will cover the whole gap but we will try to avoid obvious slashing and burning." He also points to a couple of examples. His Deputy, Pam Hennarty, volunteered to do the County Housing Element update which otherwise would have cost at least $30,000 for a consultant. The County paid a little more up front to keep foster children in the County and that has saved money.