Big corporations that own and operate shopping centers in small resort towns sometimes fail to care about local economics and cooperation. Many believe that failure led to trouble in Bishop and Mammoth Lakes.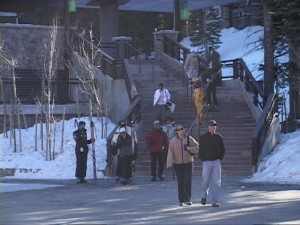 In Bishop, the once bustling cottonwood Plaza has died – now a big, vacant series of offices surrounded by chain link fence and no hope of revival. The man in charge will give no explanation for his bizarre business strategy that kicked out all paying tenants followed by closure of the center.
In Mammoth Lakes, the picture at the Village at Mammoth seems somewhat brighter, but tenants have struggled with what are described as rents too high for the Mammoth market and with other problems, including parking.
Mammoth attorney and former councilman Rick Wood represents 16 Village merchants – virtually all remaining businesses there. He said negotiations have continued among tenants, CNL and Intrawest, the companies that own and operate the Village. Wood said the good news is neither CNL nor Intrawest have commenced litigation against the tenants.
While local businesses try to work out their futures, Starwood works on a purchase of the Village. Wood said that negotiations are still going on between Starwood, who also owns Mammoth Mountain, and CNL for a possible purchase by Starwood or "some other arrangement."
As for the Village tenants, Wood hopes that negotiations will come to a conclusion in the next week or so. Attorney Wood said that "sustainability is the real issue – a formula," he said, "to allow fair rent for occupying the Village and a number that tenants can live with given the economic environment."