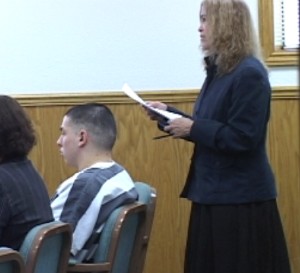 After Judge Brian Lamb ruled that Louis Leplat's attorney, public defender Elizabeth Corpora, was not disqualified from his case, Corpora herself has now asked to be removed.
District Attorney Art Maillet had filed a motion to disqualify Corpora in her representation of murder suspect Leplat. Maillet alleged that Corpora had a conflict by having earlier represented Daniel Casteel who is now a prosecution witness in the Leplat case.
Corpora argued that she learned nothing from Casteel that would cause a conflict with Leplat. However, after the Judge's ruling, Corpora said she did file a motion to be relieved from the Leplat case. Corpora explained that she was "uncomfortable in light of the judge's ruling." Corpora said the Judge had stated that it was a "close case."
Corpora said that even though the ruling came down on her side she continued to look into the issue. She said she spoke with a top expert in the field and that his advice was to get off the case. She said this decision was related to her representation of Casteel.
The appointment of counsel for Leplat is now scheduled in Inyo Court for next Tuesday.