CORA ANNA WILLIAMS
1933 – 2018
Cora Anna Williams, 85, passed away on June 17th, 2018, at Renown
Hospital in Reno, NV surrounded by her family.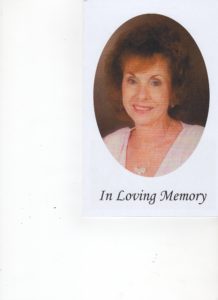 Cora was born on January 24th, 1933, to Raymond and Tilda Hamby in Aldridge, MO. She was the youngest of 4 children; her brothers, Robert, Bill, and Gene. When she was a young girl, Cora and her family moved from Missouri to California, which Cora attended schools and graduated from Nordhoff High School in Ojai, CA. She graduated in 1951 at the top of her class.
While living in Ojai, she met the love of her life, Monte, while she worked at Bank of America. Cora and Monte married after a year long courtship on October 13th in Las Vegas, NV at The Little Chapel Around the Corner.
After the births of their first and second children, Cora and Monte leased a small grocery store in Ojai for a year, which Cora helped Monte run. After the births of their third, forth and fifth children, Cora stayed home to raise their growing family, while Monte went on to work for Nason Tobey in Ojai.
Cora and Monte raised their five children: Marty, Lorie, Larry, Lisa, & Mona in Ojai. In 1969, Tobey offered Monte an opportunity to further his career by moving to Bishop, CA to work at Joseph's Bi-Rite Market.
Cora and Monte decided to relocate their family to Bishop, one of the family's favorite vacationing spots. Cora continued to be a stay at home mom until the early 1970's when she became a Secretary at Petroline Gas Company. She worked up until May 1976 when her and Monte purchased Joseph's Bi-Rite Market.
Not only was Cora the main bookkeeper at Joseph's for 42 years, but she wore many different hats to the employees and community; she was a second mother, sister,
fashion icon, life coach, nurturing, loving, caring, friend, and an inspiring & positive role model. She always put others first.
Over the course of her and Monte's ownership, all five children, most of the children's spouses, and most of the grandchildren have worked at the market.
Cora and Monte were generous supporters and constantly giving to the local community. She attended the Jr. Livestock Auction and was always a top buyer. She donated to various organizations such as The Salvation Army, Bishop Little League, Eastern Sierra Softball, AYSO, the local schools, the Boys & Girls Scouts of America, charity runs/walks, 4-H & FFA, The Elks Club and the NIH Ladies Auxiliary.
Wherever she was, Cora loved people, and socializing with others, which lead to long-lasting friendships.
Cora lived a full and abundant life. She and Monte enjoyed camping, dancing, going on many cruises, some of which included with Unified Grocers Members, and trips.
Cora loved traveling with Monte, all over the world, which included Reno, Ireland, Alaska, and a 50th Anniversary gift from their children a  cruise to the Panama Canal. It didn't matter where they were as long as Cora was with Monte. Cora always made sure to buy souvenirs for herself and her family to always cherish the memories of their travels.
Cora also looked forward to her one day off a week, Sundays, to relax at home and enjoy brunch on her back patio with the love of her life, Monte.
Cora instilled the importance of family, education, honesty, respect, trust, hard work, and lived that to her fullest until the day she passed.
Cora was a loving wife, mother, mother-in-law, grandmother, greatgrandmother,
aunt, sister, and friend.
Cora is preceded in death by her husband Monte, parents Raymond and Tilda, brothers; Robert and Gene, and daughter Lorie Kay.
Cora is survived by son Marty & wife Marcy Williams, their two children Cory Williams & Ashley Diaz (Williams) & her husband Rene Diaz, their children Andrew, Bonnie, Isabel, Jolie, and Ashlynn. Grandchildren Samantha Nelums, Jeff Nelums & his wife Breanne Nelums. Son Larry Williams. Daughter Lisa & husband Dale Pitman, their three children Elizabeth Pitman, Dale Pitman Jr. & Heidi Taylor (Pitman) & her
husband Dustin Taylor, their two children Brooke & Austin. Daughter Mona & her husband Pedro Velazquez, their children Miranda Curtis, Connie, Abby, & Brenton Velazquez. Brother Bill Hamby & Gwen, Sister-in-law Katie Williams, and many nieces and nephews.
There will be a viewing on Friday, July 6th from 10:00am – 5:00pm at Brune Mortuary, 325 W. Elm St, Bishop, CA. The service is on Saturday, July 7th at 11:00am at The First United Methodist Church, 205 N Fowler, Bishop, CA with a graveside service at East Line Street Cemetery.
The family thanks you for your attendance.
In lieu of flowers, the family requests donations be made to Northern & Southern Inyo Hospitals Ladies Auxiliary's Equipment fund in honor and memory of Cora Williams.