NEWS  RELEASE – SHOP WITH A COP
 On Saturday, December 15, law enforcement officers from Mono and Inyo Counties made Christmas for 26 families a bit brighter.  The Mammoth Lakes Police Officers Association organized the Second Annual "Shop with a Cop."  The following law enforcement agencies participated in Shop with a Cop:
Mammoth Lakes Police Department
Bishop Police Department
Mono County Sheriff's Department
Inyo County Sheriff's Department
Bishop Tribal Police
United States Forest Service Law Enforcement
California Department of Fish and Game
Inyo County Probation
Funds were raised from the communities and children from disadvantaged families were identified through community sources.  Each child was picked up at home by their "officer" and driven in a police car to Whiskey Creek in Bishop for breakfast.  After breakfast, everyone traveled by police car with lights flashing and sirens blaring to K-Mart where the shopping began.  The law enforcement agencies provided $200 to each child and K-Mart generously donated another $50 in gift cards.
With an officer pushing the shopping cart, the children excitedly shopped for each of their family members.  Some of them had to be reminded to make sure they got something for themselves.  After going through the checkstand, more volunteers wrapped each of the gifts while the children got to visit with Santa.  The wrapping paper and bows were courtesy of K-Mart.  Each child was then driven home by their officer where the gifts were distributed to the family or placed under a tree.
Everyone who participated in Shop with a Cop, including the officers, volunteer wrappers, staff from Whiskey Creek and K-Mart, and many observers, benefited by capturing the spirit of Christmas.  Many shoppers who asked what was occurring were touched by this special event and offered to support the cause.
Special thanks go to Whiskey Creek in Bishop for providing a wonderful breakfast and to K-Mart for their generous contributions.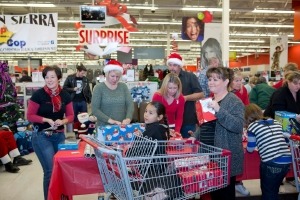 Times are still tough for a lot of people, and the 2nd Annual Shop with a Cop program in Inyo and Mono brought back some joy.
Police chiefs, sheriffs, officers and non-sworn personnel from all four law enforcement agencies and four other agencies participated to make this year's event happen. Mammoth Police Department hosted the event along with the Mono Sheriff's Office, Inyo Sheriff's Office, Bishop Police, Fish and Game, U.S. Forest Service, Bishop Tribal Police and Inyo Probation. The agencies were able to sponsor 26 children that may not have had a Christmas without them.
Officers said those involved were "very needy families." Some children who joined the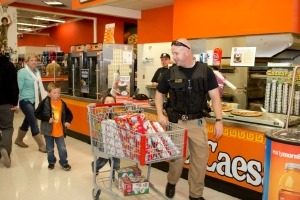 cops were buying pellets for their stove, to keep their families warm. The cops and the kids went to Whiskey Creek in Bishop for breakfast. Then they headed to Kmart. Lights and sirens thrilled the kids and announced their arrival to go shopping. Sierra Wave Media's Ron Alexander was there to capture the sights.
The heart-warming shopping trip saw kids and officers and others with big smiles and shopping carts. Once the children picked out gifts for their families, they brought them to the front for gift wrap.
Three top cops attended the event – Bishop Police Chief Chris Carter, Inyo Sheriff Bill Lutze and Mammoth Police Chief Dan Watson. Check out more photos on Eastern Sierra Shop with a Cop on Face Book. http://www.facebook.com/pages/Eastern-Sierra-Shop-with-a-Cop/211017778977627