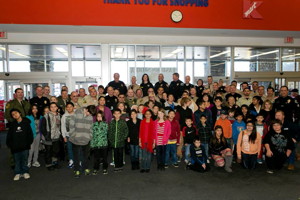 Third Annual Eastern Sierra Shop with a Cop
The third annual Eastern Sierra Shop with a Cop was held on Saturday, December 14 in Bishop.  The local law enforcement agencies and their officer associations raised money from their communities to sponsor 40 children.  Each child was picked up on Saturday morning by their partner for the day and taken to Whiskey Creek in Bishop for breakfast.  Afterwards, they all drove code 3 (red lights and sirens) up Main Street to K-Mart.  After gathering for a group photo, each child and his partner went on a shopping spree for his or her family.  The funds
raised provided each child with $200.  In addition, K-Mart generously donated an additional $40.  Once the shopping was done, approximately 30 additional volunteers wrapped the gifts using wrapping paper, ribbon and bows provided by K-Mart.  Photos were taken with Santa Claus and then the children and their partner went home where Christmas was shared with the family.
This was the largest and most successful Shop with a Cop.  The support from the community has been overwhelming, and Whiskey Creek and K-Mart have been very generous in supporting this program all three years.
The following agencies participated in Shop with a Cop:  Mammoth Lakes Police Department, Mono County Sheriff, Bishop Police Department, Inyo County Sheriff, California Highway Patrol, Inyo County Probation, United States Forest Service, California Fish and Wildlife, Bureau of Land Management, and Bishop Paiute Tribal Police.