The DWP website shows LA has kept track of the ongoing snow this spring. In fact, their graphs show Mammoth Pass snow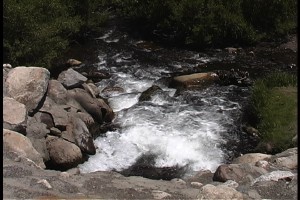 sensors at 341% of normal, as of Wednesday. The snowpack at Mammoth Pass, which is the bellwether for the season, now sits at 40.3 inches of water. That hits above the long-term average. Okay. Lots of water, and to the disgust of Mammoth residents – more snow today. Enough already!
The good news relates to the environment and, of course, skiing to some extent. Our weather forecaster, Dennis Mattinson, pointed out that the cool, inclement spring has also meant a very cool high country and no large, substantial spring thaw. Flows in creeks remain modest and unproblematic.
Mattinson said it's good for creek beds that are not overflowing as they sometimes do in the spring. There are usually some issues, particularly when creek channels are filled with debris.
Mattinson said he expects temperatures to warm up to normal by next Monday or Tuesday with the Owens Valley warming up under the mid-80s and Mammoth, the low to mid-60s. Pretty soon, we'll be complaining it's too hot.
Dennis said weather watchers now wait for the big, blocking ridge, called the Omega block, that forms every year and sits off the West Coast to push low systems up the coast.
Thanks for the encouragement, Dennis.
Meanwhile, in the far southern end of our region, high winds hit the Owens Dry Lake Thursday. So hard, in fact, that the Air Pollution Control District declared a Stage 1 Health Advisory for Lone Pine. That means the frail had to stay inside.