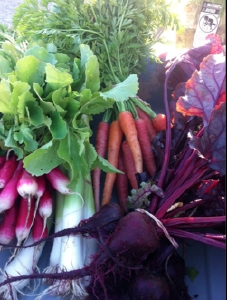 Independence Farmers Market this Friday
The next Southern Inyo Farmers Market will take place on Friday February 7 at the Owens Valley Growers Cooperative in Independence between 4 and 6 pm, on the corner of Edwards St. (Route 395) and Kearsarge.
This week's market will feature new crops of seasonal greens, root vegetables, eggs, lavender, and baked goods.
For more information, call 510-468-7113.
The Metabolic Studio is Hosting One Hundred Conversations About Water during the Centenary of the LA Owens River Aqueduct. 
Please Join Us for Conversation 56:
Gravity-Fed Irrigation  @ 8 Mile Ranch, 8 miles north of Independence, Sierra side, off route 395
Saturday, February 8th, 2014 @ 10:00 am
For more information call 510-468-7113
www.facebook.com/MetabolicStudioIOUGarden