Distance runner Meb Keflezighi, who trains in the thin air near Mammoth Lakes, is the first American to win the New York Marathon since 1982. A great achievement for sure, but sour grapes appear to have surfaced. A story in the New York Times Tuesday reports that some people have questioned whether Keflezighi is actually an American.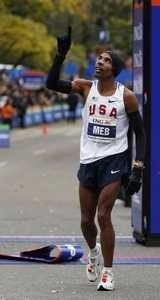 The 34 year old runner was born in Eritrea, where he lived for the first decade of his life. His family left the war torn country in 1986, stopping first in Italy, and then moving to San Diego the following year. The runner was first noticed after running the mile in seventh grade. He went on to attend high school in San Diego, and college at UCLA.
As the Times Article notes, numerous discussions have popped up on internet running forums questioning the nationality of the runner, who was born out of the country, but has made the United States his home since he was a child. Apparently being a citizen in a nation of immigrants isnt enough for some.
Anonymous internet slander is so prevalent these days that its tough to take seriously, but Darren Rovell, a sports writer with CNBC also raised the question of nationality when he stated that Keflezighi, is technically American by virtue of him becoming a citizen in 1998, but the fact that he's not American-born takes away from the magnitude of the achievement the headline implies.
After the Times Article ran, Rovell published a retraction, stating, It turns out, Keflezighi moved to the United States in time to develop at every level in America. So Meb is in fact an American trained athlete and an American citizen and he should be celebrated as the American winner of the NYC Marathon. This is a far cry from his earlier statement that Keflezighi is, like a ringer who you hire to work a couple hours at your office so that you can win the executive softball league.
The question of nationality is raised in the context of the broader question, of whether or Americans can compete in distance running? Definitions of nationality aside, the facts appear to answer this question in the affirmative. Six of the top ten male runners in the New York Marathon this year were Americans including another runner who trains in Mammoth. Ryan Hall, out of Big Bear, but who is known to run on the roads and trails of the Eastern Sierra, placed fourth overall.
The nationality of athletes in international sports is a topic that comes up from time to time. Fortunately for Keflezighi, Americans love a winner, a winner that took home $130,000 for the fine performance in New York.