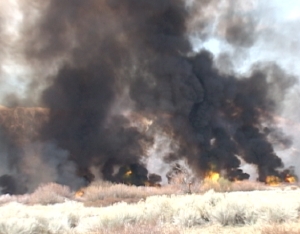 It's the controlled burn time of year. The Department of Water and Power, ranchers, and the Forest Service have conducted some. Over the week-end, the Lacey Ranch conducted a burn that alarmed Bishop residents.
The Bishop Volunteer Fire Department received many calls from local people who saw the huge columns of black smoke coming from somewhere north and west of Bishop. Most thought the shopping center might have caught fire.
The controlled burn took place near the gun range on DWP-leased ranch lands. According to fire department spokesmen, the ranch had water tankers at the ready and nothing got out of control.
Spokesmen also said that a lot of tall rabbit brush was burning and caused the black smoke.