By Deb Murphy
The presence of heavy equipment on the northeast corner of Route 6 and the Wye sent us on a chain of inquiries Friday.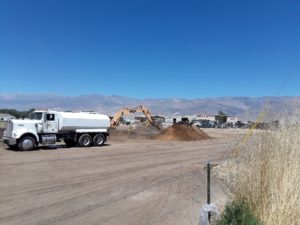 The lot split of the 5.5-acre parcel was approved by Bishop's Planning Commission in late October. The smaller parcel, the 1.67 acres currently being flattened, would be the home of the Grocery Outlet—the Big Lots of food. According to the headquarters, the Outlet will open March 24 next year. That's one answer.
According to Florene Trainor, the public information officer for Caltrans, District 9, the permitting process requires the company to widen and restripe Hwy. 6 to include a two-way left-turn land that transitions into the exiting southbound left turn lane at Wye Road. Curbs, gutters and a sidewalk along Hwy. 6 are also requirements.
The store will also have an entrance off Wye Road; both driveways will be set down their respective roads from the intersection. Wye is under the jurisdiction of the City of Bishop. Public Works Director Dave Grah said the project includes curb, gutter, sidewalk and storm drain on Wye.
So, what's missing from all this: the intersection of the Wye, Route 6 and a short hop down both to U.S. Hwy. 395. According to Trainor, nothing will be done with the intersection—currently a stop for Wye Rd. travelers.
Since two of the major groceries in Bishop, Vons and Smart & Final, are just south of the project, hypothetically no more traffic will be generated by the Outlet, just traffic zeroing in on a different parking lot and more confusion in the northbound right turn lane.
Last October's lot split re-opened a brief conversation about the County's consolidated office building. The breaking of ground brings it back again.
Coincidentally, the Inyo Board of Supervisors will be looking at 2018 financials on the Bishop building as a 1 p.m. timed item at its Tuesday meeting. The agenda packet includes the massive presentation by consultants Allan D. Kotin & Associates. According to CAO Kevin Carunchio, the cost has increased roughly 24-percent since the original proposal five years ago.
The original deal outlined a 20-year lease at the end of which the county would own the facility with a $1 token payment—after a $2 million payment at the start, monthly payments of $50,000 with lump payments of $250,000 in years five, ten and 15. Tuesday presentation includes that revised option as well as a second with a larger initial payment.