Last week, news hit the airwaves about the Owens Dry Lake, DWP's wish to use less water there and the State Lands Commission fiery objections. Los Angeles TV also weighed in with a story about saving water at the dry lake. Now, local conservationist Mike Prather of Lone Pine has a say.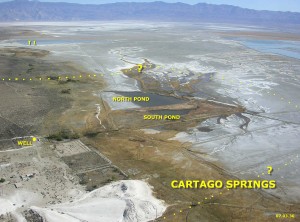 Prather said he wanted to make sure there was a voice for wildlife and conservation on the issue. Locally, Inyo Supervisor Bev Brown was interviewed by KABC and she essentially apologized for sue of water on the dry lake.
DWP's use of water to control dust has created an extensive bird habitat on the dry lake. The Audubon Society has gone to work on a conservation action plan with all agencies involved. Prather said he thinks the idea of saving water on the lake bed is okay, but he does have concerns about DWP's plan to use what's called moat and row – high rows of dirt – to keep dust down. "Moat and row is not a proven method," said Prather. "It seems like a $20 million gamble. If it doesn't work, they have to do something else."
Prather pointed out that the Air Pollution Control District estimates that DWP can save 10,000 acre feet of water through greater efficiencies. That would provide more than enough water to create ponds in the moat and row area with no extra water needed, Prather said.
The conservationist also suggested that DWP could mitigate a loss of habitat for moat and row by dedicating 2200 acres on the lake as perpetual habitat.
Prather said it's also conceivable that some groundwater at the dry lake could offset other water use. To claims that water is wasted on the dry lake, Prather points to water for wildlife as a beneficial use. He said the current Board of Supervisors doesn't see it that way and stands up for agricultural interests. Prather and others disagree that less water on the dry lake means more water for Inyo ranchers. "Any water will go down the aqueduct," said Prather.
More on all of this at the October meeting of the State Lands Commission.