Conrad Neil Morris, born on March 29, 1925 passed away peacefully in his home on December 8, 2018.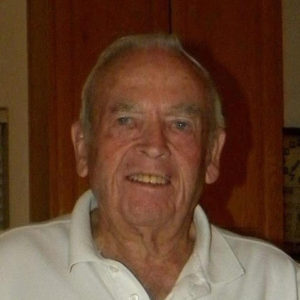 Conrad Morris – better known as "Connie" – was the only son of Ralph "Chick" and Bernice "Bea" Morris of Big Pine CA.  Connie was born in Long Beach then moved with is folks to Big Pine at the age of 8.
He was a graduate of Big Pine High School.  He joined the Navy where he was a torpedo man on a TBF Bomber. After the service he went to the University of Nevada then returned to Bishop where he began working for the Division of Highways as a surveyor. Following the Division of Highways, he became employed by Cal-Interstate Telephone Company as a draftsman and surveyor.
Connie's parents "Chick and Bea" Morris built the original Foster Freeze on main street of which Connie helped manage.
Connie then met his wife Arlene (Holland) and they were married in 1955. Being an only child, Connie loved being a part of the large Holland family and many great memories were made.
They had two children, a son Neil and a daughter, Kristin.
In the late 50's he was making a career in the telephone industry working for Contel, Telephone Utilities and Pacific Telecom from which he retired as Vice President of the Northwest in 1992.  Connie and his family made many moves during his career.
They lived in Bishop, Apple Valley and Victorville, CA.  Minden NV, Bellevue, Spokane and Gig Harbor WA and  Richardson TX. His children were always grateful and blessed as they were his number one concern when it came to moving.  He always made sure they were placed in good schools and nice homes. Connie and Arlene were also very fortunate as they enjoyed many travels together to faraway places.
After retiring, Connie and Arlene returned to the place they called "home"… Bishop.
Connie took pleasure in playing golf, spending time with his grandchildren Whitney and Garrett and being back in the Owens Valley with many friends and relatives.
He was a member of the infamous "Coffee Club" at Hing's and thoroughly enjoyed many mornings with his close friends. Connie had many friends and acquaintances who loved to be around him and his laughter.
He was known for his very successful career, piano playing, sense of humor, good story telling, generous heart, volunteer work at Laws Museum, talking Donald Duck and his strong and sincere hugs.
He was preceded in death by his parents Ralph and Bernice Morris and his son Neil Vernon Morris.
He is survived by his wife Arlene, daughter Kristin and son-in-law Robert Carr, grandson Garrett and his wife Terees Carr, granddaughter Whitney Carr and great granddaughter Brynn Carr.
Connie leaves behind a brother in-law Howard Holland, numerous nieces and nephews and cousins Danny and Barry Curtis.
In lieu of flowers- please send donations to Laws Museum in memory of Connie Morris
Private graveside services will take place later this month.
A "Reception for Remembrance" for friends and family will be held on January 5th, 1:00pm – 4:00pm at Whiskey Creek in Bishop.