Constance Marie Engelhardt passed away in Bishop, California on October 15, 2018 at the age of 73 after a many year struggle with lung cancer.
She is survived by her husband Claus, her son Christopher and his wife Blake also of Bishop, her sisters Vera Crandall of Fenton, Michigan, Jan Tarter of Fillmore Indiana and a brother Randall Crandall of Huntingburg, Indiana.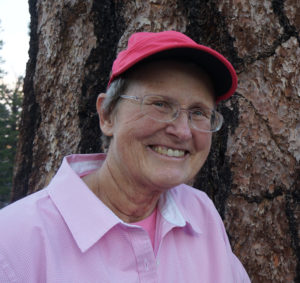 Connie was born in the small town of Huntingburg in southern Indiana. She enjoyed a happy childhood with her siblings on their family's small farm.  She was the first in her family to attend college, majoring in education with an emphasis in business subjects at Indiana State University eventually obtaining a Master's degree. Upon graduation she accepted a teaching position at Bakersfield High School in Bakersfield, California.
She had a natural skill as a teacher and was able to gain her student's respect and affection while motivating them to learn and excel. In 1972 she married Claus Engelhardt, petroleum geologist. In 1976 their son Christopher was born. Chris was the love of her life and under her influence has grown into a fine young man.
Connie left Bakersfield to follow her husband on various career moves, first to Brandon, Mississippi, then Anchorage, Alaska, Pleasant Hill, California, Denver, Colorado and finally back to Bakersfield.
There she resumed her teaching career at Thompson Junior High instructing her new students in computer applications. In 2000 the couple retired to Bishop, California and lived there ever since. In Bishop they were able to pursue their love of nature, exploring the nearby High Sierra and desert lands that surround that community.
Retirement also gave Connie the opportunity for travel and she was able to experience many wonderful places in the United States and abroad.
Connie led a very full and productive life, was dearly loved and will always be remembered by her family and many friends.