In an LA Times article Monday, a congressman from Arizona mentioned the plan for a Bishop Mule Museum as an example of what he is up against in his fight against government pork-barrel spending. According to the Times article, Republican Jeff Flake opposes the practice known as earmarking, where congressional representatives slip pet projects into larger bills with out much debate.
Many may remember the infamous bridge to nowhere, in Alaska that politicians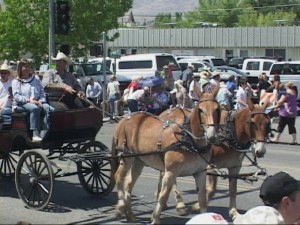 like Senator John McCain used as an example of pork-barrel spending a few years back. In this Times article, Congressman Flake uses the $50,000 that Congressman Buck McKeon secured for a Bishop Mule Museum in a recent transportation bill as an example of the type of earmarking that he opposes.
In response to the $50,000, Congressman Flake is quoted as saying, it is time for the American taxpayer to say Whoa. The article also mentions that Flake recently challenged Congressman McKeons earmark for the Bishop Mule Museum.
Despite Congressman Flakes opposition, Congressman McKeon was able to get Mule Museum money into a recent transportation bill.
This isn't the only earmark for the Eastern Sierra in recent years. An earmark in the $286 billion transportation bill passed in 2005 specifically set aside money to help pay for a bus maintenance building in Mammoth.
So is the Mule Money government waste as the Arizona Congressman contends? Last time we spoke to long time local packer and Mule Days founder, Bob Tanner about his idea to build a Mule Museum, he said that he thought the museum would be good addition to Bishop.
He also said that it was part of his plan to get federal seed money to get started and then look for private donations to raise the rest of the money needed.
In a press release, Congressman Mckeon explained that besides the federal money, Inyo County would chip in $2 million and DWP would donate the land to build the museum at theTri County Fairgrounds.
Assistant Inyo Administrator Kevin Carrunchio told us that he was not aware of any county money set aside.
Waste or not, in a past interview Tanner explained that years ago people didnt think Mule Days would work. He said he was confident that with a little effort there will be a Mule Museum in Bishop.
While Congressman Flake attacks other projects like a swimming pool in
Banning, California and a theater in Louisville, Kentucky, the Times
reports that so far he has only been able to stop one earmark – $129,000
for a job creation program called the Home of the Perfect Christmas
Tree in South Carolina.