Sources within the Department of Fish and Game have offered conflicting stories on proposed regulations before the Fish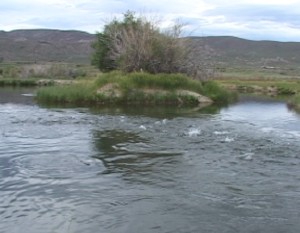 and Game Commission. Tim Alpers of the Eastern Sierra continues to say that a threat to trout planting could still exist and bears watching.
Monday, Alpers sent out the word that Fish and Game
would likely start to require that trout farm owners such as himself to prepare environmental impact reports before planting their trout.
Andrew Hughan, public information officer for Fish and Game, had confirmed to us that the Commission would consider authorizing their staff to investigate an EIR requirement.
However, locally at the Bishop Fish and Game office, Debra Hawk, said it was her belief that the Fish and Game Commission would vote on a requirement that in all counties in California private operators would have to fill out a stocking permit. She said Inyo and Mono already do this. Hawk said that she does not believe there is any proposal to require an EIR for private operators. She called a stocking permit "fairly benign" and said a $50 fee would be required.
Alpers said that he did get other information that Fish and Game's EIR from earlier this year may contain enough information to cover future activities. Alpers, a veteran of the sometimes harsh impacts of Fish and Game regulations, said it's best to "err on the side of caution." Alpers said he believes this whole matter is "still up in the air."