"Concert in the Rocks" was Rockin' the Alabama Hills in support of Western Film History Museum
The Annual fundraiser, Concert in the Rocks was held in the Lone Ranger Canyon of the Alabama Hills, last Saturday, June 5 as supporters of the Museum of Western Film History in Lone Pine, Calif. gathered for a fun-filled weekend. After over a year of COVID-19 restrictions, people seemed ready to get out and have a good time. And boy, did they ever!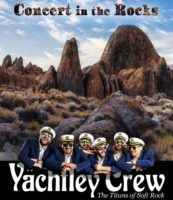 The Museum supporters rocked-out to best soft rock of the 70's and 80's also known as "yacht rock," provided by the Yachtley Crew from Los Angeles.
Tickets prices were $110 but that did not appear to be a problem for those in attendance, many of whom drove several hundred miles from outside the area to celebrate the museum, staying in local hotels and motels, motorhomes, and even with some residents.
Museum board member Jaque Hickman said, "Everybody had a great time. We had over 500 guests for the dinner and the event lasted until after midnight. And the music was fabulous!"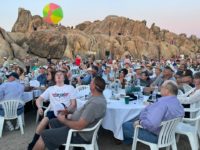 The dinner was served in the Lone Ranger Canyon in the Alabama Hills. The Hills have been the site for many Western and Sci-Fi movies and shows going back decades to the early 1900s.
Almost every business in Inyo County contributed something to the event, said Hickman, which shows the level of support the museum has in the area. Of special note, ten local high school Future Farmers of America volunteers worked for hours setting up the tables and chairs, worked as waiters during the event. Afterwards they helped to take down the set up.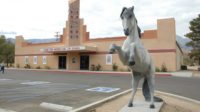 The museum has fans from around the world coming to the Lone Pine area to experience the surroundings where so many famous movies have been filmed…and continue to be filmed in the area, as are many commercials set against the backdrop of the Sierra Nevada Mountain range says museum board president Chris Langley, who is also the Inyo County Film Commissioner.
Next up is the world-famous 31st Lone Pine Film Festival to be held on October 7 to 10, 2021. Please visit the museum website or the Facebook page for the Festival or call (760) 876-9909.
(Updated 6-08-2021 at 11:20 am)