Water officials in Inyo and LADWP have admitted the current plan to control pumps does not work and in many places the groundwater table has never recovered. So, when DWP asked to pump wells that were turned off due to environmental damage, some objected.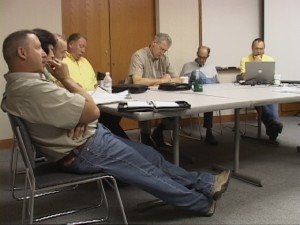 At a Technical Group meeting of Inyo and LA staff, Sally Manning, former Vegetation expert for the Inyo Water Department, objected to turning off what's called an exempt well for a brood pond at Black Rock Hatchery. She called for other means besides pumping an off-status well.
Mark Bagley of the Sierra Club said criteria should exist for turning exempt wells on and off. He pointed out that staff should know how much flow is really needed at the Black Rock Hatchery before turning on and off-well.
Bagley asked if environmental analyses are done with these changes. The answer was, sometimes. Inyo Water Director Bob Harrington told DWP more information is needed before turning on the exempt wells.
Manning and Bagley quizzed officials over turning on exempt wells in the Laws area which Manning said Cottonwood trees are dying.
Inyo and DWP will get more information.