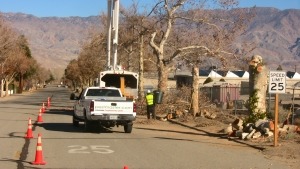 Late last week, an Independence resident on a walk saw a crew start to cut down trees that line Onion Valley Road – a familiar, beautiful and shady feature of the small town.  Another citizen and finally County Public Works checked it out and found that the Los Angeles Department of Water and Power had hired Pestmaster Services to cut down eight trees that were supposedly diseased.
As word spread through town, calls started to go in to Inyo County Administrator Kevin Carunchio. He confirmed that the trees are on the County right of way and that this requires approval by the Board of Supervisors.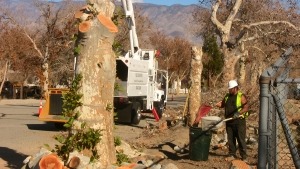 Nina Weisman of Independence said a resident on a walk called her to report that Pestmaster's crews had cut down two trees and were on the way to a third tree.
Weisman responded.  She asked the Pestmaster's men about what they were doing.  She said they reported that DWP had hired them.  Weisman said the trees are on a County right of way and the County should be called.  They stopped work.
Inyo Deputy Public Works Director Jim Tatum said there is a Board policy on tree removal.  Tatum said DWP was unaware of that and had received a complaining call about the condition of the trees.  Tatum said DWP consulted an arborist, apparently from Pestmaster who said the trees are diseased with Anthracnose which is a leaf blight.  Tatum said they recommended cutting down eight trees and pruning 13 followed by a fertilization process.
Citizens also pointed to the fact that the trees have not been watered in a ditch which has long run past all 21 trees but has lately been dry.  Tatum said he hopes this issue will be publicly addressed too.  Apparently DWP had plans to re-plant new trees which presumably would have to be watered. The University of Colorado recommends that Anthracnose diseased trees should be treated and watered during dry winters and other dry times.
The County tree policy says removal of trees by parties other than the county shall be limited to trees that must be removed for vehicular access, trees to provide sight distance for an entrance, trees endangering the health, welfare and peace of mind of a property owner, or if a "substantial" number of property owners in the vicinity have signed a statement, or trees that interfere with functions of a public utility where no other reasonable alternative exists.  It's not clear that the case on Market Street matches any of those reasons.
DWP will have to appear before the Board of Supervisors on this. (Photos by Rick Masters)