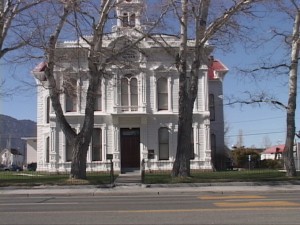 Close to 150 people crowded into and outside of the Mono Supervisors boardroom in Bridgeport Tuesday. The crowd came to voice views on yet another discussion about the Bodie Hills and Cougar Gold Mining Company.
This time, Supervisor Chairman Hap Hazard tried a compromise idea that would have re-drawn the Wilderness Study Area boundaries in the Bodie area to exclude the potential mining area. Strong objections met Hazard's idea.
Supervisor Byng Hunt said that no one seemed to like the idea – neither those in favor or opposed to Wilderness. Supervisor Hazard's plan would have kept 10,000 acres in the Wilderness Study Area with 6,000 acres opening up.
Supervisor Viki Bauer did not attend the meeting, but Supervisors Hunt, Johnston and Hansen did not support Hazard's plan. There was no vote. Many, including Supervisor Hunt, said that Cougar Gold has submitted no mining plan to BLM, and that's part of the problem. "I'm not willing to release the WSA until I know what they want to do," said Hunt.