People in Big Pine will breathe a sigh of relief since Inyo Sheriff's Lt. Randy Geiger found their very large, beautiful flag.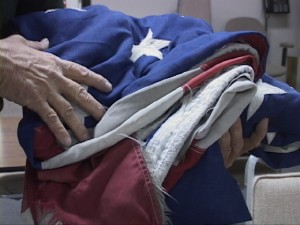 He has it at the Sheriff's Department. Officers will go to work arranging for the refurbishing of the flag, which suffered extreme wear while missing.
The extra large flag was originally stolen by someone and apparently passed around. Rumors had arrived at the Sheriff's Department where it might be found. Lt. Geiger succeeded in securing it for the community.
You may recall the amazing sight of the super large American flag flown at Triangle Park right next to Highway 395. That sight is expected to re-appear soon.l