By Deb Murphy
Wednesday morning on the lawn in front of Bishop High School, senior Jordan Kost held a banner listing the names and ages of the victims of last month's school shooting in Parkland, Florida. At the bottom of the list Kost wrote "Enough."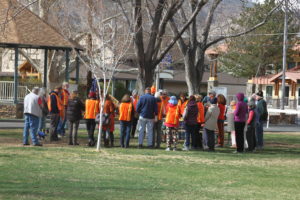 The same sentiments were reflected at a smaller gathering at City Park, a month after the last in a too long list of students and teachers who died too young.
The main topic at both events wasn't gun control, but how to guarantee that Parkland would be the last mass school shooting. "We came out for the students," Kost said, "and to look for the solutions."
The consensus was everyone was scared, Kost said, "and that's not okay."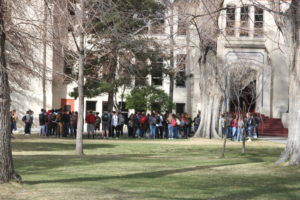 "We were honoring the lives lost," Kost said in a phone interview. He called the walk-out positive, at the same time acknowledging that was an odd word to use for a sad event. "You have to stand tall," he said. "You have to listen and hope others listen back."
Mental health was a topic at both the school and the park. How do you identify students so alienated they turn to violence? A woman near tears at City Park thought metal detectors were part of the solution.
The school walk-out is the first of a national movement. Marches are scheduled for Saturday, March 24 and Friday, April 20, the 19th anniversary of the Columbine shooting that took 13 lives. Bishop High students participating in Wednesday's walk-out weren't even born then.
Then came the shooting at Virginia Tech, April 16, 2007, 33 dead; Sandy Hook, December 14, 2012, 26 dead; a community college in Roseburg, Oregon, October 1, 2015, 10 dead.
While schools nation-wide have incorporated additional safety measures, to Kost it seems nothing has been done. "Kids are still dying," he said. "Things get drawn out for a while, but then they die down when something else comes along."
With the strong activism of the Parkland students, Kost's hope is this time it will be different. "We have to face the fear with courage and intellect," he said.