By Deb Murphy
The issue of empty storefronts in Bishop's downtown core has been a talking point since the city went through its economic development update to the General Plan in 2015. The level of concern and range of options to help fix the problem seemed to peak at Wednesday evening's community meeting.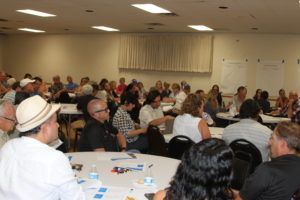 "The turnout and engagement was excellent," said Elaine Kabala, Bishop's associate city planner. "The City hopes everyone will continue to be engaged on implementing the ideas generated by the public."
Approximately 120 locals participated in the workshop held the Elks Lodge, asking questions, going through the exercises and asking the important question "what's next?"
"Stay in touch with the City Council," answered Kabala. The results of the workshop will be presented to the Council at its August 9 meeting, she said. The Council will decide where it wants to go and what the priorities are.
The problem isn't a bad local economy. Kabala explained Bishop's JCPenney did well, but it still closed.
The current inventory of empty storefronts on Main and Warren streets includes nine for rent, 11 just sitting. Six have out-of-the-area owners, two are owned by Los Angeles Department of Water and Power. Why are they still vacant? Too big, too expensive, need too much work. According to Kabala, it's also a matter of supply and demand. There's a lot of supply and not much demand.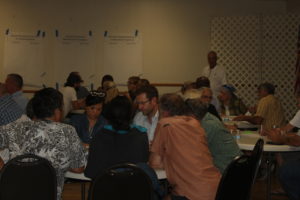 The irony: there is a demand for goods available locally, despite the rise of e-sales.
Kabala ran through a range of available options the City could look at: expand the current fund for low interest loans for cosmetic fixes to include structural issues, zoning incentives, work with local property owners, consulting services for business start-ups available through the Small Business Administration and Public Opportunity Zones to incentivize investment in the town, a program available in the 2017 tax bill.
Then it was the community's turn to weigh in. Don Mathewson's suggestion had a lot of traction: develop a $1 million Venture Capital Fund governed by a board to review applications and mentor business start-ups who use the fund. "If the community is a stakeholder," he said, "they will patronize that business."
By the end of a short break in the workshop, Mathewson had a number of residents willing to help fund the concept.
Stephen Muchovej suggested an advisory board to help businesses adapt to demographic changes in the city, encourages classes and activities to draw people to the downtown core and unify Main Street visually. "Use neon to make downtown pop," he said.
Councilmember Joe Pecsi wanted to turn downtown into the Disneyland of outdoor activities. He also wanted to see more flexibility on the part of property owners.
The final comment pretty much sums up the workshop. "The future is bright. People are showing up and participating and the City is bending over backwards to listen."