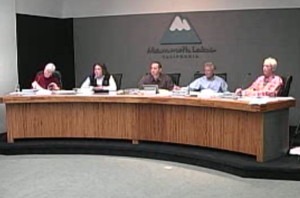 At one point, the Town of Mammoth Lakes had some five commissions in operation. They all took time, especially Town staff time, and money. Tough times have led to the elimination or proposed end of three commissions.
Wednesday night, the Mammoth Town Council was scheduled to act on the proposed cancellation of the Airport and Mobility Commissions. The Public Arts Commission went down earlier. The Council had earlier directed staff to draft revisions to the Town code to eliminate Airport and Mobility Commissions. The agenda bill on this item says the Town's Commissions take "considerable time. Any reductions made should free up staff time, impacting other priorities."
The Town Council agenda starts at 4pm with a closed session regarding employee negotiations. At 5pm, the Council will hold a workshop to review the budget and go over proposed performance measures for Public Works and Transportation,including the Airport and a contract with Eastern Sierra Transit Authority.
The regular agenda starts at 6pm with a special honor for Police Officer Doug Hornbeck on his fifteenth year anniversary with the Mammoth Lakes Police Department.
Other items include a Transient Occupancy Tax update, talk about a zoning proposal for the Mammoth Creek Inn Expansion Project, and finally the expected elimination of the Airport and Mobility Commissions.
Earlier Wednesday, the Mammoth Lakes Planning and Economic Development Commission planned to meet at 2pm in Suite Z to hold workshops on zoning code updates, to consider a Vons and Minaret Mall Master Sign Plan, and to review the Old Mammoth Road Jam 2013.