Press release
The Inyo, Stanislaus and Plumas National Forest are seeking input for the proposed Mammoth Base Land Exchange. At this time, a Draft Environmental Impact Statement is available for public review. The Draft Environmental Impact Statement is available for download from the Inyo National Forest website athttps://www.fs.usda.gov/project/?project=30428. A comment form is included on the website, which allows the public to submit comments on the Draft EIS electronically.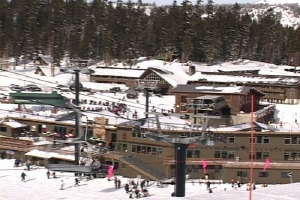 Under the proposed action, the United States would convey approximately 35.6 acres of National Forest System lands within the boundaries of the Inyo National Forest, and currently managed as part of a Ski Area Term Special Use Permit to Mammoth Main Lodge Redevelopment, LLC. In exchange, Mammoth Main Lodge Redevelopment, LLC would convey to the United States approximately 1,296.7 acres of privately owned lands ("inholdings") located within the boundaries of the Inyo, Plumas and Stanislaus National Forests and one small parcel (approximately 1.4 acres) in Inyo County, California that is outside the boundaries of the Inyo National Forest.
The purpose of this land exchange is twofold:
To acquire environmentally sensitive lands and an administrative site to better meet resource and other management goals of the United States Forest Service as outlined in the respective Land and Resource Management Plans of the National Forests involved in this exchange; and
To exchange developed lands in the National Forest System that encumber adequate management by the Forest Service and would better serve the community and economic needs of the Town of Mammoth Lakes and Mono County in private ownership.
Comments on the Draft EIS will be accepted for 45 days from publication of the Notice of Availability (NOA) in the Federal Register or until August 20, 2017 (the anticipated date of publication of the NOA is July 7, 2017).
Comments may be submitted to Ed Armenta, Forest Supervisor, c/o Janelle Walker, Winter Sports Specialist, Inyo National Forest, PO Box 148, Mammoth Lakes, CA 93546, FAX; (760) 924-5537 or by email to: [email protected] (please include "Mammoth Base Land Exchange EIS" in the subject line). Comments may can be submitted on the project website: http://www.fs.fed.us/nepa/fs-usda-pop.html?project=30428. Comments may also be submitted by hand-delivery to 351 Pacu Lane, Suite 200, Bishop, CA 93514, during normal business hours (Monday – Friday8:00 am to 4:30 pm).
The Inyo National Forest will hold a public meeting on July 31, 2017 from 6:00 pm to 8:00 pm at The Mammoth Lakes Council Chamber, Suite Z, 437 Old Mammoth Road, Mammoth Lakes, CA (above the Vons) to provide an overview of the project and to answer questions from the public.
For questions or comments, please contact Janelle Walker at[email protected].