Press release
The Inyo National Forest is proposing to implement a sage-grouse habitat enhancement project in and around Big Sand Flat near Sagehen Summit.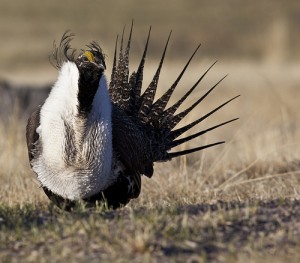 In the absence of a natural fire regime, Jeffrey pine trees are gradually moving out into historically pure stands of sagebrush. Sage-grouse tend to avoid areas with overhead cover, likely because trees provide perches for predators such as hawks which feed on grouse.
The project would entail removing small trees from approximately 1,360 acres. The small diameter young trees would be felled and limbed using chainsaws and allowed to naturally decompose on site.
This type of project is known to be an effective habitat enhancement tool. Another area treated near Sagehen Summit was repopulated by sage-grouse within weeks of the project's completion.
For more information regarding this project or if you wish to comment on this proposal, please call Richard Perloff at 760-924-5508 or contact him via e-mail at [email protected] Comments on this proposal would be most useful if received by September 25, 2018.
BI-STATE SAGE GROUSE BACK ON PROPOSED THREATENED SPECIES LIST; 2,800 SQUARE MILES IN EASTERN SIERRA ON CRITICAL HABITAT LIST
Federal court actions have brought the issue of the bi-state sage grouse and its habitat in the Eastern Sierra back into play, requiring a new review process.
According to an Associated Press report, Judge Joseph Spero, U.S. district chief magistrate in San Francisco, ordered reinstatement of 2,800 square miles in the Eastern Sierra as proposed critical habitat on August 31.
Last May, the California and Nevada populations of the sage grouse were ordered back on the proposed threatened listing until a new review is completed. The U.S. Fish and Wildlife Service has until October 1, 2019 to complete that review.
The habitat is centered in the Mono Basin. The decision to not list the bi-state sage grouse was based on conservation measures. Spero found those measures were not legally adequate. – Deb Murphy