NPS press release
Devils Postpile National Monument Seeks Public Input on Draft Accessibility Self-Evaluation and Transition Plan
The National Park Service has prepared a draft report that provides recommendations to improve the accessibility at Devils Postpile National Monument.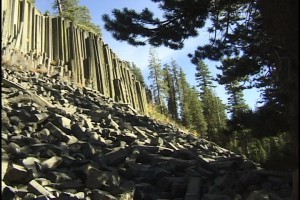 As part of the planning process, the National Park Service is seeking public comment on the draft plan. The Self-Evaluation and Transition Plan (SETP) is available July 24-September 1 for public review and comment  at https://parkplanning.nps.gov/DEPO_SETP.
An interdisciplinary team, including park and regional staff, identified the key park experiences and park areas to determine which areas would be evaluated for accessibility needs. The team then developed implementation strategies for improving the accessibility at each location.
The plan will guide changes to the way existing services, activities, and programs are provided in multiple locations throughout Devils Postpile National Monument by defining what barriers limit accessibility and providing recommendations on how they can be modified or removed to increase accessibility for all users.
Comments may be provided through the above website, or faxed, hand delivered, or mailed to (insert address and fax number here). All comments must be received by September 1, 2017.
Before including your address, phone number, e-mail address, or other personal identifying information in your comment, you should be aware that your entire comment—including your personal identifying information—may be made publicly available at any time.
While you can ask us in your comment to withhold your personal identifying information from public review, we cannot guarantee that we will be able to do so.
Your participation is important to our planning process.