Will public comment really change the view of the Administrative Office of the Courts? Most doubt it but still say it's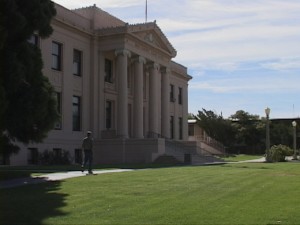 important to comment on the location for a new $30 million court building.
Originally, that building was planned for Independence, the County Seat of Inyo. At the last minute, officials switched to Bishop, although there is no definite location. Inyo's two judges held public meetings in each community. They found support for Independence as the court building location.
Even so, the Administrative Office of the Courts preferred Bishop as the location since most people live in northern Inyo. The AOC formally recommended Bishop. In spite of a done-deal appearance about it, the AOC did ask for public comments. Those comments must go in by 5pm Friday, January 21st.
Those in Inyo who strongly support the County Seat concept, urge the public to send comments. They're asking that you comment on our website, as well, which is read by the AOC.
Send comments to:
The Administrative Office of the Courts
Attn: Inyo Courthouse
Office of Court Construction and Management
455 Golden Gate Avenue, 8th Floor
San Francisco, CA 94102
Or go to www.courtinfo.ca.gov/invitationstocomment/