Press release
From Mono County Sheriff Ingrid Braun
Undersheriff Michael Moriarty announced that he will be retiring from the Mono County Sheriff's Office effective December 22, 2017.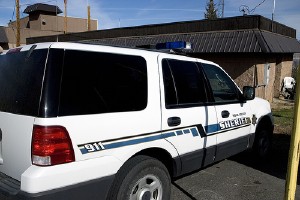 Undersheriff Moriarty will conclude a law enforcement career that has spanned over 30 years, from Pennsylvania to California. In his three years in Mono County, Undersheriff Moriarty shepherded this Office into the modern era of policing.
His experience and wisdom brought change and progress, and his mentoring and encouragement helped build the career skills of all of our staff.
On a personal, and frankly selfish, level, I am heartbroken to lose him. Mike Moriarty has been a friend, mentor and partner to me for over 25 years. However, I completely understand and support his desire to retire from a rewarding career while still young enough to enjoy time with his wife, children and grandchildren.
Undersheriff Moriarty's retirement affords me an opportunity to reward the good and dedicated work of Lieutenant Phillip West with a promotion to Undersheriff.
Lieutenant West came to the Mono County Sheriff's Office over 15 years ago from the Bishop Police Department. He promoted through the ranks, achieving the rank of Lieutenant nearly five years ago.
Lieutenant West has been a committed partner to me and Undersheriff Moriarty over the past three years. He knows where this agency has been, helped get us to where we are, and he shares my vision for the future. I have full faith in his ability to take on this new position.