Earlier this month the community of Independence continued with an annual tradition – Thanksgiving dinner for all who want to join in. The dinner took place in the school multi-purpose room and, as usual, sponsored by the Sierra Baptist Church and Methodist Church.
When asked about the event, Baptist Minister Perry White said, "I had the idea about 10 years ago. It was at that time when I saw a problem develop when food baskets were delivered to people in Independence at Thanksgiving and Christmas.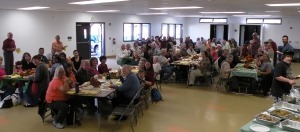 "We as a church would provide the main portions of the meal and invite others to bring side dishes if they so desired. The meal is free to all and there is nothing mandatory about bringing a side dish.
"We always attempt to have this at 2 pm so that no one needs to travel home in the dark. Some from outside Independence attend and we do not discourage anyone from attending. We just consider such people to be friends of Independence. We have never asked for donations except in some years we have had on display a Salvation Army kettle."
The Methodist church has always helped with decorations and drinks. Reverend White said he doesn't preach or push anyone to join the church. It's a gathering for food and togetherness. Rich and Kathy White do the honors of the turkey carving.
This year, Healthy Communities held its raffle to support the Kids Club as well at the dinner.