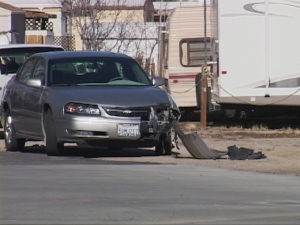 Business owners and residents along North Sierra Highway in Bishop heard the loud clash of metal before noon Wednesday when two vehicles collided right at the entrance to the Highlands Mobile Home Park.
The CHP and others responded and found that no one was injured. Bystanders told Sierra Wave that it appeared the small gray car pulling out of Highlands to go south ran right into a white truck that was in the process of turning into Highlands.
The CHP did confirm that the driver of the gray Chevy Impala, Theodore Weyer, 73, of Bishop, was stopped at the intersection of the park with 395 and turned left into the path of the Dodge pickup, driven by Alaina Arrowood, 32 of Bishop. Both vehicles sustained major damage.