Inyo National Forest Supervisor Jim Upchurch has reached a decision on the issue of how to manage dirt roads and vehicle trails. Considering how acrimonius discussions of forest roads have been in the past, so far the plan has been received well.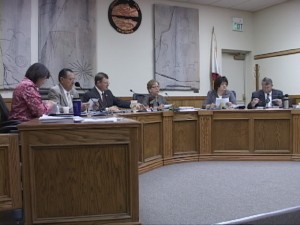 Despite the fact that some dirt roads will be closed under this decision, at the Inyo Supervisors meeting on Tuesday, board members appeared supportive of the work that went into the Inyo National Forest Travel Management Plan.
After all the often contentious public meetings over the years, Upchurch chose the compromise plan, known as Alternative 6. This alternative was the plan that a diverse group, members of the Friends of the Inyo, the Advocates for Access to Public Lands, Inyo Supervisors and individuals, had publicly recommended to Upchurch.
There are about 3600 miles of dirt roads and tracks on the Inyo National Forest. About 660 miles of routes and roads are set to be closed under this plan. Some of these roads may be used by people, but others go nowhere, some are over-grown, others still are unneeded duplicates of other roads. Many routes slated for closure are near Mammoth, in an area known as the spaghetti bowl, for the sheer number of dirt roads through the pines.
Under this decision, 850 miles of high-clearance native surface roads as high-clearance roads open to all vehicles, will be added to the list of official roads, along with 122 miles of motorized trails open to all trail vehicles, 20 miles of ATV trails, and 15 miles of motorcycle trails.
At the board meeting, Upchurch said that he felt the plan provides a manageable system, that lets visitors and residents use the forest. Eventually there will be good maps showing the roads, better signage, and maintenance of the Forest Service roads, he explained.
Supervisors commended the work that the working group did to produce this plan. Supervisor Marty Fortney said that he thought the collaborative meetings showed those with an environmental perspective that there were people on the motorized recreation side of the fence that had environmental concerns as well.
Supervisor Linda Arcularius had heard from people who represent environmental concerns who wanted to keep routes open, because they too use the roads to get to places on the forest. The road is important for differnet reasons, she said.
While she saw issues outside of the recreational use of the roads, Supervisor Arcularius said that with sincere efforts of those involved, the process worked.
Paul McFarland with the Friends of the Inyo recognized the need for diverse use of the land and called this Travel Management plan a good starting point to stop fighting in the meeting rooms and get to work out on the ground.
A map of the new official road system is scheduled to be published this fall.