Press release
Coleville/Walker KOA wins KOA Top Awards
Four years running, this KOA has won both KOA President's and KOA Founder's Awards
Coleville, CA: For four years running, the Coleville/Walker KOA (aka Meadowcliff) is the award recipient of the KOA President's and Founder's awards. "It is through hard work, dedication and passion that create amazing experiences for their camping guests", according to Mary Fesko, Owner.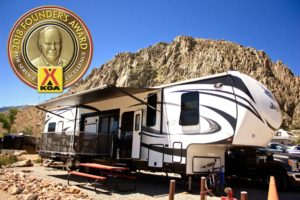 "All of us here at the Coleville/Walker KOA are extremely proud to once again have received both of these awards. Our team works hard to give a clean, safe, pleasant and amazing experience to all of our guests" says Mary Fesko, Owner. She noted that it's such an honor to be recognized by our guests.
"The reviews and scores given by our guests tell the complete story." according to Tim Fesko, Owner.
According to D. Archer, "I'd like to add another 5 stars to the rating. Beautiful setting, clean individual sites. Cleanest bathroom/showers I've seen – and they're individual rooms as a big bonus. I'll look forward to staying here again."
And M. Kompier said "Loved, the place. Especially the pool for the kid and the pen areas for the dog. There's a little something for everyone in the family there."
And according to S. Tharan, "The Coleville/Walker KOA Park is very well laid out and very well maintained. The Hosts, Tim & Mary Fesko, as well as their staff, were all very helpful, friendly and professional. We had a wonderful stay and will definitely return!! I would highly recommend this KOA Park to everyone I know!".
About the Coleville/Walker KOA: The Coleville/Walker KOA (formerly Meadowcliff RV Resort) has won top awards each year since it was opened in 2009 being in the top 2% across the nation according to GuestsReviews.com. Since becoming a KOA park, Tim and Mary Fesko have continued to receive top awards, again in the top 2% nationwide. The Coleville/Walker KOA consists of 34 full service RV sites, including seasonal pool, volleyball, horseshoes, Club house and clean, family style restrooms. Visit our website at www.meadowcliff.com