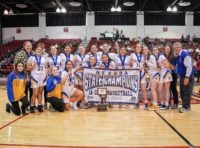 The Mono Board of Supervisors approved a special proclamation at its March 8 meeting, honoring the Coleville High School Lady Wolves basketball team, crowned Nevada Interscholastic Activities Association Division 1A champions in Las Vegas February 26.
The Lady Wolves ended the season with a 22-2 overall record and 8-1 in league, defeating the Pyramid Lake Lady Lakers 66-62 in overtime at Cox Pavillion.
"The girls had a rough year," explained Supervisor John Peters. "There were fires, COVID earthquakes but they couldn't be slowed down." Despite no basketball season last year due to COVID shut-downs, the Lady Wolves "ran through the team" on the road to the Championship.
Team members and coaching staff are (back row) Assistant Coach Breezy Rupp, Jeannella Daniels; (middle row) Yasminne Acero, Ashley Tovar, Emily Gonzalez, Leslie Castellon, Mayra Tovar, Alicia Mandell, Alex Sanchez; (front row) Emma Harshman, Stephanie Gutierrez, Loralei Balcunas, Kylee Lange, Gracie Castellon, Alondra Gutierrez-Arana, Kaelyn Lange, Bobbie Harper, Assistant Coach Megan Guffey, Head Coach Will Sandy