So, who's partying at Coachella?
Well, a talented musician from Bishop, Brijesh Pandya, is playing at the Coachella Music Festival.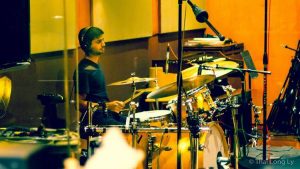 Brijesh Pandya is a 2007 Bishop Union High School graduate and he was on stage last Sunday and will be again this Sunday at the music festival in the southern California desert.
Brijesh is playing with Steady Holiday, giving the diverse crowd at Coachella still another cool musical choice on one of the many stages.
Brijesh Pandya was in Home Street Band as well as Bishop Union High School Band, under Dan Daugherty, who supported Brijesh and two of his bandmates for a small Jazz Group and they were know as Funk Jazz Collective.
Funk Jazz Collective competed in Reno Jazz Festival and at Disneyland's Music Competition and came away with prizes.
Brijesh has also performed at the Inyo Council for the Arts and Lone Pine Film History Museum, as well as at Mule Days Music in the Bishop City Park and Mammoth Music Festival with Funk Jazz Collective and the Bishop Big Band.
He received his Bachelor of Music in Jazz Performance from the prestigious music program at California State-Northridge, and, as a member of the school's renowned Jazz "A" Band, he won multiple first-place awards and outstanding soloist awards at the Next Generation Jazz Festival and the Reno Jazz Festival.
Since graduating, Brijesh has performed with groups around the country and abroad, most notably at the 2013 Java Jazz Festival in Jakarta, Indonesia, and directly supporting Hanson on the 2015 Roots Rock n' Roll Tour.
Pandya's list of credits include performances and collaborations with Macy Gray, Hanson, Mike Garson (David Bowie), Ruslan Sirota (Grammy winning keyboardist), Bob Reynolds (John Mayer), Rashawn Ross (Dave Matthews Band), Paul McDonald (American Idol) and Austin Wintory (Grammy winning video game composer).
In addition to drums, Pandya also writes, sings, plays guitar & keyboards. He is currently the staff drum instructor at West Coast Music Academy in Santa Clarita, and also teaches privately around the greater Los Angeles area.
Steady Holiday is the project of Los Angeles-based musician Dre Babinski.
Some kind of fun – Bishop's own Brijesh Pandya played Coachella last Sunday and will again this Sunday.
His proud parents, Dr. Ashvin and Rita Pandya, note that Brijesh is very thankful to very Inyo County Community for its longtime support.