Parents of Bishop High students signed petitions and made phone calls. They aren't happy that school officials gave Bishop Football Coach Bill Egan a preliminary pink slip in March. Egan, praised for his dedication to students and athletes over the last 8 years, has no assurance of a job next year. Last night, he stood up to talk straight to the school board.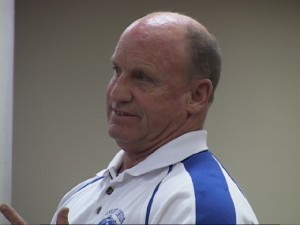 Egan said he had decided to decline a job offered to him to teach at the Juvenile Hall in Independence. "I'm not qualified to teach there," he said. "I am qualified to coach football and teach world history."
Coach Egan, viewed by many in the community as a major school asset, spoke calmly and candidly. He told the Board that while everyone feels restricted with money problems, they have to look at the opportunities. "We need to do some really creative things."
Egan said, "We need to do a great job with the kids who are not here tonight." He referred to the fact that the top academic students were recognized earlier in the evening. There are a lot of kids who are not at the top, he said. "Sometimes we get pre-occupied with the upper level kids and there are a lot of the other kids."
The coach said the school should "make sure to put the right people in the right positions" and not just who is available. He pointed to problems in Mammoth schools where, Egan said, they have forgotten about athletics.
Egan had offered a subtle warning to the Board about where they are headed, possibly away from excellence in sports and care for the kids involved. He concluded by saying that his aspiration is to remain in the Bishop community.
So far, School Board members have declined to make it possible for Egan to stay at Bishop High.