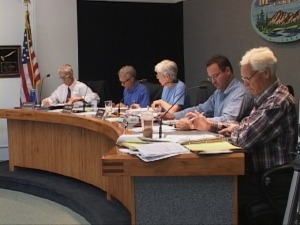 As Town officials continued to meet with Mammoth Lakes Land Acquisition officials Monday and Tuesday, it was decided to call for a closed session with the Town Council on Tuesday to brief the full Town Council, according to Mammoth Financial Advisor Marianna Marysheva-Martinez.
Martinez and Town Manager Dave Wilbrecht still plan to speak to the Council in closed session tonight (Wednesday) at the start of the Town Council meeting. Martinez had said that the series of meetings with MLLA this week were focused on brainstorming ideas on possible settlement options over the $40 million debt owed to MLLA – options of interest to MLLA and those Mammoth could afford.
Sierra Wave spoke to Martinez Tuesday afternoon.  At that point, she said there was not much to share.  She did explain the Tuesday closed session as important so that the full Town Council could hear from her and Town Manager Wilbrecht on MLLA's thoughts.  She confirmed the Wednesday closed session would still happen.
In other matters before the Council tonight, officials will vote on approval of a letter to Congressman Buck McKeon that will request legislation to amend federal regulations regarding the use of non-lethal weapons on Forest Service land by authorized individuals.  This move refers   to the efforts by Mammoth Police Chief Dan Watson to gain permission for Wildlife Specialist Steve Searles to use his non-lethal weapons to manage bears which run back and forth from Forest to town land. So far, the Forest Service has refused.
Mammoth Superintendent of Schools, Rich Boccia, will make a presentation on school district priorities, and he will ask for approval of a resolution in support of Measure S to raise money for Mammoth Unified School District.
Also before the Council – more news on the Mammoth Yosemite Airport Terminal Annex and a possible grant of funds to Mammoth Lakes Housing, Inc to complete the Star Apartments Rehabilitation Project.
A number of other items on tonight's lengthy agenda including a draft scope of work for the Town's Economic Development Program.