THE HIGH SIERRA RESPONDS TO A CHANGING CLIMATE
Press release
An afternoon seminar in Lee Vining on climate issues affecting the Sierra and all of us will be held on Thursday, June 16 from 1-5pm at the Mono Basin Scenic Area Visitor Center Theater
Free and open to the public
Wondering what's up with a 5 year drought followed by an epic winter?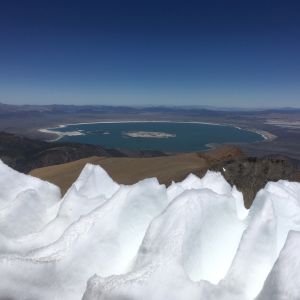 An afternoon series of talks with local experts will focus on how the High Sierra is responding to a changing climate.
Student scientists Caelen and Ellery McQuilkin will discuss the Dana Glacier and cold air pooling at Mono Lake. Mono Lake Committee present and past Executive Directors Geoff McQuilkin and Martha Davis will describe how Mono Lake is responding to warmer, drier winters, and how effective advocacy and persistence can affect change against all odds.
Forest Service Scientist Connie Millar will provide an eco-system wide overview, U.C. Davis scientist Steve Sadro will speak on what alpine lakes tell us about climate change, and SNARL's Dave Herbst will discuss how droughts and floods affect aquatic life in mountain streams.
These excellent speakers will help us understand the future of the Sierra and what we all can do to encourage progress toward a sustainable climate on our planet.
This event is sponsored by 350 MONO, a local climate action group, in conjunction with the Mono Basin Bird Chautauqua. A complete event schedule can be found at www.monoclimateaction.org