SNARL Lecture #4
"Threats of Climate Change to Eastern Sierra Plant Communities"
by Dr. Erin Riordan, Dept of Ecology and Evolutionary Biology, UCLA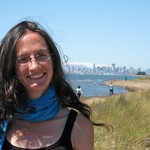 Tuesday, June 23, 7:00 pm, at the Page Center on the SNARL Campus (1016 Mt. Morrison Rd.)
This century, climate change will dramatically impact the conservation value of California's protected areas, including their capacity to support key species and habitats.  Erin evaluates the effectiveness of the University of California Natural Reserve System in providing suitable conditions for California's rich biodiversity. She will talk about the future effectiveness of the NRS 39-reserve network as a whole, highlighting at risk species.  In addition,she will discuss the potential impacts of future climate change for eastern Sierras forests.
Erin Riordan is a postdoctoral researcher working with the UC Natural Reserve System. She received her PhD from UCLA (Department of Ecology and Evolutionary Biology) in 2013.
This lecture is free and open to the public, but not suitable for young children. The lectures start on time, so please allow 15 minutes to park and get to your seat to settle in. Dogs should be left at home. Please do not come early for a walk before the talk; the grounds at SNARL are closed to the public. Lectures last approximately one hour.