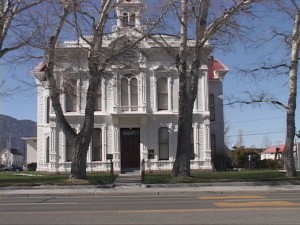 Last month, we looked into how our two counties regulate political activities on the job for government employees. Inyo County prohibits it. Mono County does too, but not for elected officials. The Mono Supervisors may tighten up those rules when they consider a proposed ordinance at their meeting today.
This whole issue came up when citizens questioned the propriety of the Mono Sheriff and District Attorney gathering signatures for their petitions in lieu of filing fees at a County management meeting. At the time, County Counsel Marshall Rudolph said there was a rule that prohibited rank and file employees and appointed officials from engaging in political activity on the job. He said the definition of employee did not cover elected officials.
Since that time, Board of Supervisors Chairman Larry Johnston requested adding to County Code prohibitions for elected officials. County Counsel Rudolph has come up with a draft ordinance to accomplish that. He focuses on prohibiting political activity on County premises. Rudolph confirmed that this prohibition would apply to employees, appointed officials and elected officials. If the Board approves it today, the ordinance would take effect in 30 days.
On another item, the County Counsel's Office will recommend that the Board reject a claim for damages filed by Attorney Allen Berrey for his client, Youssef Boulaalam. Mr. Berrey alleges that his client was "unconstitutionally and unlawfully seized, searched, arrested and jailed by two Mono County Sheriff's officers – a sergeant and a deputy – in a way that made him feel as if he had been baited, hunted and trapped for no legitimate reason."
The claim further alleges violations of civil rights, fabrication of evidence, false arrest and imprisonment and violation of Fourth and Second Amendment rights. Mr. Boulaalam was passing through the Bridgeport area as part of a longer trip. Officers said they stopped the man because they thought he was under the influence. The claim alleges the officers did not investigate the possibility of under the influence and only wanted to search the vehicle. The District Attorney did file a charge of misdemeanor carrying of a loaded firearm in a vehicle.
The Board also expected to spend a couple of hours today on the Mid-Year Budget review.