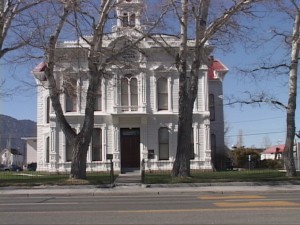 The Mono Supervisors recently rejected a claim filed by attorney Allen Berrey for a client stopped and searched by Mono Sheriff's Officers near Bridgeport. The claim alleged violations of civil rights, fabrication of evidence, false arrest and imprisonment and violation of fourth and Second Amendment rights. This case goes to court next week on a motion to suppress evidence.
In December, a Mono Deputy and a Sergeant stopped Youssef Boulaalam who was traveling through the area on a camping trip. The officers passed him as he drove away from Travertine Springs. They later claimed his eyes looked blurry. The officers turned around and, as the attorney said, tailgated Mr. Boulaalam out onto Highway 395. Berrey said his client was unnerved by the officers following him. The DVD dashboard cam from the patrol car shows Mr. Boulaalam driving in a mostly straight line on the highway. Officers claimed they stopped him because of suspicion of driving under the influence.
Attorney Berrey said the officers did not investigate DUI and instead wanted to search the man's car. The dash cam DVD revealed the Deputy saying that "all these guys who camp have guns on them." Mr. Boulaalam did tell the officers about two guns in his vehicle. The two officers were heard on the DVD second-guessing themselves about the stop as they drove Boulaalam to the jail. He was charged with misdemeanor carrying a loaded firearm in a vehicle.
Attorney Berrey claims the officers used the excuse of DUI to stop and illegally search his client. Berrey said if his motion is granted next Monday, the guns and statements will be kicked out of the criminal case.
As for a civil suit, Berrey said that if Mr. Boulaalam files civil suits, they will be filed in state or federal court. He has until July to make that decision. See our earlier website story for more detail –
http://sierrawave.net/28121/claim-against-mono-county/