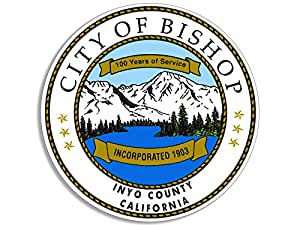 The City of Bishop is proud to announce the Urban Greening Grant award of $138,921 for the Bishop Community Garden Expansion and Enhancement Project. This project reflects the City of Bishop and the Friends of the Eastern Sierra Garden's commitment to reducing greenhouse gas emissions and supporting our disadvantaged communities. This project will continue to improve our environment and community sustainability by using the garden as a place for education and outreach, access to fresh foods, and learning gardening practices. This grant award will allow for the greening and shading of the Pine to Park Path from East Pine Street. Adjacent to the Path, visitors will see the installation of a Restorative Garden, a place to reflect and relax. Another new addition will be an accessible garden with pathways compliant with the Americans with Disabilities Act (ADA). This garden will be an inclusive place that invites adults, and children to interact in the garden and sample fresh produce, and provide appropriate aids and services leading to effective participation for persons with special mobility or physical needs.
The development and ongoing operations of the Bishop Community Garden is a collaborative effort, sustained by the Friends of the Eastern Sierra Gardens, United Methodist Social Services, and the University of California Cooperative Extension (UCCE) Master Gardeners of Inyo & Mono Counties. The City of Bishop, the Bishop Paiute Tribe, the County of Inyo, the Los Angeles Department of Water and Power, and many other community agencies and members are also strong supporters of the Bishop Community Garden. Volunteers are always welcomed and encouraged to support the Bishop Community Garden.
For more information, contact the Bishop Community Garden at (760) 872-2098 or email [email protected].
Sent on behalf of the City of Bishop Planning Department and the Community Services Department