By Deb Murphy
The City of Bishop and the Los Angeles Department of Water and Power celebrated the newly tree-lined South Main Street with a block party Friday late morning. 
The project was a collaboration between the two entities with the City's Public Works doing the installation and LADWP providing $20,000 for the trees planted on South Main and in the Mountain Rambler parking lot.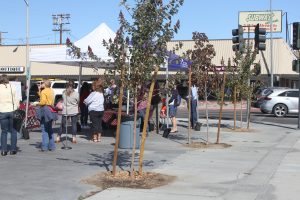 Local residents, City staff, councilmembers and both local and headquarter staff from the Department gathered at the southwest corner of Main and Line streets. While it's too early to enjoy the shade from the trees, with a little imagination it was easy to envision what the downtown corridor will look like in the future.
Selecting urban trees isn't as easy as checking off species in your garden book. Urban trees have to be well-behaved and compatible with the East Side's weather extremes The Bishop species include London plane trees, chanticleer pears, purple robe locust, shantung maple and chokecherry.
The trees should have been the stars of the show, but the speakers stepped up to take center stage, offering up hope for an easier path to future collaborative projects.
"DWP is part of this community," said Mayor Jim Ellis. Ellis listed off other collaborative projects like the Seibu to School pathway, the land purchase for affordable housing and the possibility of a trail system around Bishop and purchase of Department lands.
That list, as well as future tree plantings along Main Street, was also mentioned by Anselmo Collins, LADWP's director of water operations.
Following the official portion of the event both Collins and Clarence Martin, aqueduct manager, confirmed the department is working on streaming the terms of leases to balance the Owens Valley and City needs in a way "agreeable to everybody." Or as Martin said—"freeing up the log jam."