With mostly state money, the City of Bishop will improve two streets. Crews will remove and repave North Third and Short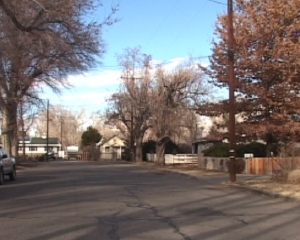 Streets with improved drainage, sewer function, curbs, gutters and sidewalks. At their meeting Monday night, the City Council awarded the nearly $1 million project to Qualcon Contractors of Minden, Nevada. ConSpec of Lee Vining will do the underground work.
Bishop Public Works Director Dave Grah said that the City does have long term and ongoing plans to improve streets. The new project will start in mid-February and last about two and a half months.
The project will lead to the removal of 20 mature trees. The City will provide 60 replacement trees. Public Works Director Grah said that the project includes two locations – North Third from Pine to Elm and around the corner on Elm.
The second location is Short Street between Second and Third Streets. In this project, crews will convert Short Street to a one way street with diagonal parking on one side. Parking is a problem in this area, although residents have differing views on the one-way street idea. Grah said they will try it out for six months or longer and can return the street to two-way.
Gas tax money will pay for street and drainage improvements. City water and sewer funds will cover the water and sewer work. More on this at a public meeting in early February.
On the removal of the old shade trees, Grah said this is painful but in time the new trees will grow. Is he worried about funds coming from the troubled state government? Grah said there are always some sleepless nights until the check arrives, but he said the City does not believe there will be a problem.