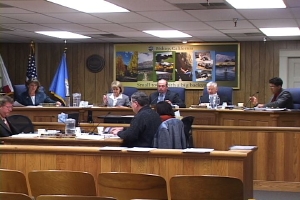 After a closed session labelled potential litigation during their afternoon Study Session, the Bishop City Council came out and their attorney offered an announcement. Peter Tracy was sitting in as counsel. According to observers, he said, in effect, that the Council had considered hiring retired Colonel David Buckingham as City Administrator and that he claimed he was harmed by their not hiring him. So, they paid him $38,000 to make no further claims.
Unconfirmed reports from reliable sources indicate that the Council offered a contract to Buckingham, that he signed it and made plans to move to Bishop only to have the offer withdrawn. It is not known if the City had signed a contract or why they may have withdrawn one.
Officials have declined to reveal details about what resulted in the $38,000 pay-out of City funds to Buckingham. Reliable sources did say that Buckingham and his wife had travelled to Bishop and spent several days here meeting people. It was also reported that he had put his house in Virginia up for rent and was looking for a place to live in Bishop.
Reports further indicated that the contract with Buckingham was planned for approval July 14th. There was no action on the City Administrator item on the 14th.
On July 28th, the Council unanimously offered the City Administrator contract to Jim Tatum, who accepted and will start work at the end of this month.  A press release with more details was expected to be released Tuesday.