The Inyo Supervisors and Inyo Water Commissioners had pretty much given up on the existence of the Commission; but when some seven citizens unanimously insisted on the value of the Commission, things changed.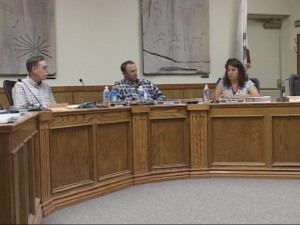 Over the past several years, the general public perception of the Inyo Water commission has been a kind of do-nothing group. Even the Supervisors rarely accepted their recommendations or asked them for advice. When three members prepared to drop off the Commission, the idea of the Commission's demise surfaced.
Last night (Wednesday night), the three remaining commissioners held a meeting to talk about the future of that body. Paul Lamos and Matt Kemp felt no public interest and a diminished role had led to no need for the commission. Commissioner Teri Cawelti still had hope and called for a more active role. She called it a "forum for the public."
Daniel Pritchett of the California Native Plant Society had applied to be a commissioner. He said the passive attitude of the Commission is a problem. "You're supposed to continuously review the Water Agreement for implementation. Don't wait for the Board to ask you to. The crux of the problem," said Pritchett, "is passivity. If you view your role as passive, the public will not go to your meetings."
Mark Bagley, President of the Owens Valley Committee and local Sierra Club representative said the Water Commission should stay in business and is an important citizen advisory group.
Sally Manning, Environmental Director of the Big Pine tribe read a letter from the Tribal Chair, Virgil Moose, that called for a continued Commission.
Nancy Masters said she was dismayed about talk of disbanding and said the Water Commission fills a critical link to the public. "You speak for us. You're an independent voice," said Masters.
In recent years, Commissioners have neglected discussion of important environmental issues and perceived abuses by LADWP. Dean Tanksley, Chair of Inyo's Natural Resources Advisory Committee said, "Don't be afraid to ask the hard questions and tick people off. Keep the determination."
And, they did. Teri Cawelti moved to send the message to the Supervisors that they believe the Water Commission should continue and that a more vigorous solicitation of applications should take place.