Will locals get a chance to zoom around Klondike Lake on their jet skis and boats this summer? So far, DWP has kept them on a short chain of Saturdays only through mid-June as the agency considers how to control the pest, quagga mussel and at the same time accommodate boats.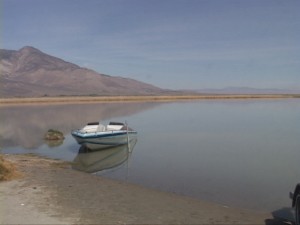 When DWP announced the ban on boats due to quaggas, citizens united. The Save Klondike Lake Committee instantly put out petitions to keep the lake open. They gathered more than 1500 signatures and appeared before the Inyo Supervisors.
The group has continued to meet and come up with ideas on how to keep the lake open. Members now say it's critical to attend a meeting in Big Pine on June 11th. Paige Van Velzer said that the Big Pine meeting is very important if they're going to keep the lake open.
Van Velzer said the Committee urges citizens to email and call members of the Board of Supervisors to keep the lake open to all boats. Van Velzer said citizen involvement is what it will take. "Otherwise," she said, "we'll lose the lake."
Klondike has long been a haven for locals from Mammoth Lakes south to Big Pine.