A small lake indulged in mostly by locals throughout the Owens Valley and Mammoth Lakes stands to face restrictions that will start on Friday. Klondike Lake plays host to hundreds of jet skiers, water skiers and boaters every summer. This year, DWP's plan to ban motorized craft prompted formation of a citizens' committee to fight the restrictions.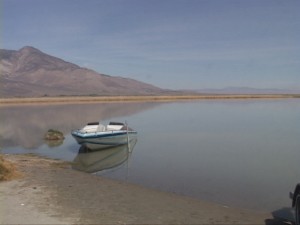 The Save Klondike Lake Committee appeared before the Inyo Supervisors last week with their plea for support to take another route instead of a ban on water craft. The Supervisors did agree to agendize the item for this Tuesday at 9am. They asked that DWP also show up.
The issue – the invasive pest known as quagga mussels. DWP doesn't want to pay for boat inspections at Klondike, but officials do want to keep the pests out of the lake and away from the Owens River. Citizens say a volunteer program or some other means could be used instead of a ban on boats and jet skis.
More at the Inyo Board meeting at 9am.