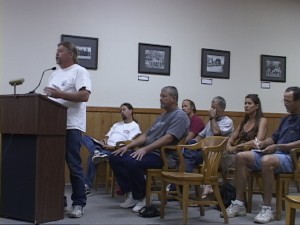 As local families get ready to recreate on Klondike Lake outside Big Pine, DWP has banned jet skis and motorized boats to keep the pest, quagga mussels out of the lake. In response, citizens launched an effort to keep water skiing and jet skiing.
The Save Klondike Committee of locals collected 1,000 signatures in two weeks to call for continued use of Klondike Lake by motorized boats and jet skis. Seven members of the Committee went to the Inyo Supervisors meeting today to ask that the officials stand up for them with DWP.
Tim Barnes pointed to the need for local kids to have Klondike for recreation, as well as adults. Members of the Committee asked for an agendized item next Tuesday. The Board said, yes, with the meeting to start early, at 8:30am. The Klondike issue to start soon thereafter.
Members of the Committee pointed out that a ban of water skiing and jet skiing from Klondike will take an economic toll on local businesses and on local residents who want to recreate close to home. The next closest body of water available for water skiing is Walker Lake or Topaz Lake. Many locals would likely have to forego this favorite summer pastime.
Petitions are available at at Bishop MotoSports, Golden State Cycle, Manor Market, Brown's Town, Big Pine Chevron, Big Pine High Country Market, Bishop Chevron, Alex Printing and many other locations.