Citizens have challenged actions by the Inyo Supervisors and the Inyo-LA Standing Committee as violations of the Brown Act that governs public meetings.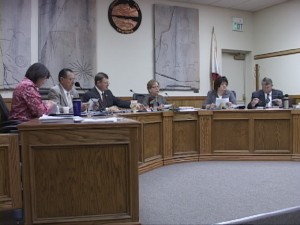 It was back in August when the Supervisors gave direction to the two board members who sit on the Standing Committee on a mitigation project, the Re-greening Northeast of Big Pine. That specific item was not listed on the August 24th Supervisors agenda.
The item did come up at the August 27th Standing Committee meeting and the Inyo Supervisors there had instructions. Now, members of the Big Pine Paiute Tribe have objected to the whole process. They say that the Supervisors violated the Brown Act by deciding items for the Standing Committee before that group ever met and without public participation as required by law.
Inyo's County Counsel, Administrator and Water Director deny that the Supervisors violated the law. But they do admit the August 24th agenda was not specific enough. The three officials say that they think it "appropriate for the Standing Committee to reconsider the Regreening project to erase any doubt that might arise about the validity of Inyo County's vote."
This whole item will come up at Tuesday's Board meeting, but it's not at all clear when. It's item number 20 under departmental items.
Meanwhile, in Bridgeport, the Mono Supervisors will consider sending a letter of thanks to Senator Barbara Boxer for help her office provided in response to legislation that would impact Bridgeport and Antelope Valleys.
The Mono Board will also consider a proposed resolution on an amendment to the county's agreement with Eastern Sierra Transit Authority.